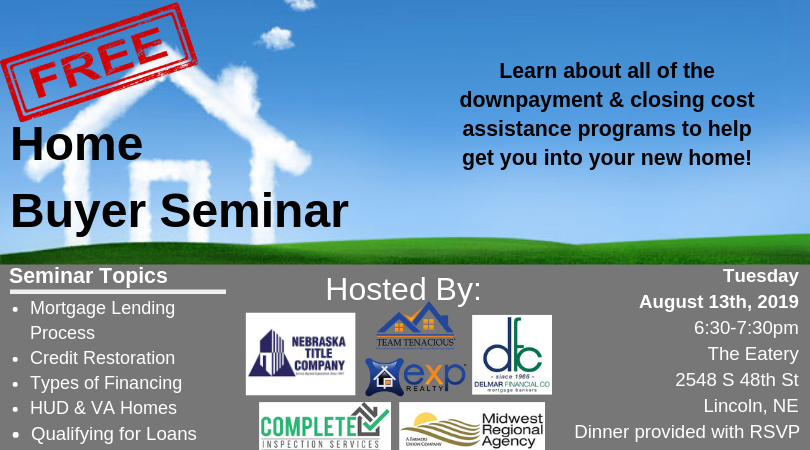 Don't miss out on this hands-on FREE workshop, with all the tools you need to buy a home that puts you in the driver seat. Buying a home can be stressful and overwhelming, let us give you the tools to make the purchase smooth. We will provide the Pizza for everybody attending.

This is perfect for 1st time home buyers or anyone interested in buying a home in the near future.

Team Tenacious, a Loan Officer, Home Inspector, Insurance Agent & Nebraska Title will detail the process of buying a home, discuss common pitfalls, share the best practices to get the best interest rate, improve poor credit scores and find the perfect home. The key to this seminar is to help you understand the whole buying process from beginning to end.

Please invite friends and family that could benefit from this workshop. Please make sure everybody attending is at least 19 years or older.

Please RSVP, we have limited seating and want to make sure we can answer all questions from everybody that attend the event.

Date: August 13th
Time: 6:30 - 7:30 pm
Location: The EATERY: 2548 S 48th St, Lincoln, Nebraska 68506
Contact: 402.217.9211
Are you tired of missing out on new homes on the market? Every time you call the home is PENDING or SOLD? When you choose "The Tenacious" Realtor and her team, you have the insider knowledge. Heid....
Latest Blog Posts
Don't miss out on this hands-on FREE workshop, with all the tools you need to buy a home that puts you in the driver seat. Buying a home can be stressful and overwhelming, let us give you the tools
Don't miss out on this hands-on FREE workshop, with all the tools you need to buy a home that puts you in the driver seat. Buying a home can be stressful and overwhelming, let us give you the tools